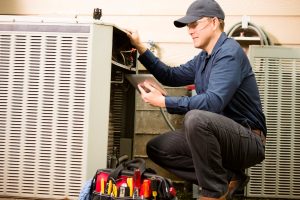 While recycling materials and conserving energy are two simple ways everyone can protect the environment, sustainability is something home builders must consider in each project to ensure they meet stringent environmental protection standards.
Energy efficient and sustainable building practices play a key role in multifamily housing development. The federal programs administered by the West Virginia Housing Development Fund each include several provisions to encourage sustainable and environmentally friendly practices. For example, the Low-Income Housing Tax Credit Program requires a property architect to assess "any and all green and sustainable features" that are part of new construction or rehabilitated buildings, as well as the property site. Considerations include urban infill, habitat protection, energy codes, preservation of existing flora, water conservation, construction waste management, and more.
"Any type of construction has the potential to disrupt the environment, so we attempt to ensure that these projects are constructed in a way that minimizes impact," said Michelle Wilshere, Senior Manager of the Low-Income Housing Tax Credit Program for the West Virginia Housing Development Fund.
Two opportunities for partner developers to participate in trainings focused on green and sustainable building have been brought to the Fund's attention. Green Home Institute's Basics of Residential Green Building 7 Chapters Series is currently available online. Sol Design & Consulting's Sustainability & Green Building Practices seminar is scheduled for May 11 on Zoom. To find out more about these and other trainings, visit www.wvhdf.com/programs/low-income-housing-tax-credit-program.
Sustainability doesn't stop once the buildings are constructed. Projects developed under the HOME, Housing Trust Fund, or Low-Income Housing Tax Credit programs are awarded points for including Energy-Star certified heating, ventilation, and air conditioning systems, appliances, doors and windows, and LED light fixtures. These measures reduce greenhouse gas emissions and can result in savings for the tenant.
"Statistics show that Energy Star appliances and systems are 20 to 30 percent more efficient," said Cathy Colby, Senior Manager of HOME and Housing Trust Fund Programs for the West Virginia Housing Development Fund. "Not only that, energy efficient appliances and windows can result in notable cost savings for the tenant. For our low-income tenants, that's more money in their pockets to pay for groceries or medicine. So not only do these measures help the environment, but they also help the economy."  
The Fund, in partnership with the West Virginia Department of Environmental Protection, also offers a loan for homeowners to help them protect their property through the Onsite System Loan Program. This program helps eligible homeowners repair or replace their onsite septic systems or connect to a public treatment system. Eligible households may receive up to $10,000 in the form of a 10-year loan through WVHDF.
"This program helps to protect ground and surface waters from contaminants that may leech in from failing septic systems," said Erica Boggess, Executive Director of the West Virginia Housing Development Fund. "It's just one more way we work to protect the environment by making homeowners' properties safe so they can enjoy their homes."