Hello, my name is Katie. I am a 41-year-old mother of two. I currently reside in Morgantown, but I grew up in the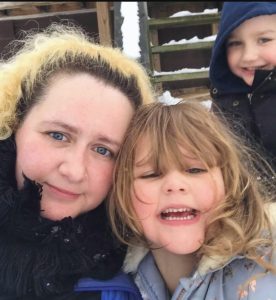 Northern Virginia area (Fairfax County) prior to my move to the Mountain State.  I have lived in the beautiful, wild and wonderful state for the past 14 years.  When my family first moved to Martinsburg, I was doing what they call a "super commute" each day, traveling from the Eastern Panhandle area of West Virginia and taking the MARC train all the way to Union Station each weekday to get to work In Washington, D.C., as a government contractor for the Department of Defense and later for the Department of Homeland Security. In 2015 I had my first child, my handsome son, and in 2016, just a year later, I had my beautiful daughter.  At that time, I was married to my high school sweetheart and while he worked, I was afforded the wonderful and priceless opportunity to be a stay-at-home mom to my two little ones.
In January 2022 my son and I both caught the COVID-19 virus. Although it was an awful virus that made us both incredibly sick, we both made a full recovery over a month's time.  Because of the virus, my husband was forced to take time off work, due to potential exposure. At that time, we started getting behind with bills, and found ourselves struggling to make ends meet.  Little did I know that right after getting over COVID, life was about to get much harder!  In March, my husband of 11 years walked out on me and our two children, leaving us with thousands of dollars in unpaid rent and bills, no running vehicle, and not a penny to my name.  I was not only devastated, but I was more afraid than I have ever been in my entire life.  Unfortunately, I had no idea any of this was coming, and was still a stay-at-home mom. Although I tried to find work, my lack of a vehicle and the inability to find quality childcare was a constant struggle.  To squeak by, I sold anything and everything I owned of value for us to have money to survive.  I also started an online fundraiser to try to get some money together to pay as many bills as I could.  Once that money ran out, in desperation I started looking around online for any help I could find so that we could get back on our feet.  
All my online searches kept leading me back to one particular program of interest to me—the Mountaineer Rental Assistance Program (MRAP).  This is a program designed to help get families within the state to get back on their feet by helping to pay their rent, utilities, and internet.  I also learned they would help pay the back rent. The program sounded almost too good to be true, but I decided on a whim to call the number listed to find out more information and to see if I might actually qualify.  When I called, I spoke to a very sweet young lady and she gave me all the details on what the program had to offer and she told me based on the information I had supplied her about my particular situation and my total lack of income, that I should apply ASAP as they were accepting applicants and she said there was a good chance I would probably qualify.
About one week after finding out about the program and getting the necessary documentation together (a copy of my lease, each of my utility bills, and information on my internet provider) I was ready to fill out the online application and submit all the requested paperwork. After eagerly waiting a few weeks, I got the much-anticipated call from my MRAP case worker telling me she was submitting my application for final approval and payment!  One week after my status changed to "approved" I called to check to see how long payment would take to be sent out to my landlord and utility companies and I was informed payments had already been mailed out!  I excitedly emailed my landlord to let her know to be on the lookout for a check from MRAP to cover the back rent, current rent and late fees, along with three extra months of payments.  I was also told a one-time $300 check would be sent directly to me to help with the cost of my internet.
Overall, saying this has been a tough year for my kids and me is probably a huge understatement, but we are slowly making it out of the huge slump we found ourselves in. I truly believe the three of us will make a beautiful life for ourselves full of future success, especially with the wonderful opportunity that was afforded to us through the MRAP program.  Finding this program has been a complete game changer in my life, especially since becoming a single mother!  I can't think of a greater gift for anyone to have given us than what this program has graciously blessed us with, and I can't thank them enough! 
If you find yourself struggling to make ends meet, please take that first small step and give MRAP a call!  The folks at this program are there to help and will walk you through all the steps.  This can really make all the difference when you find yourself in a very scary situation, such as potentially losing your home, or having your utilities terminated.  Help is available, if you qualify, and they are still accepting new applicants!