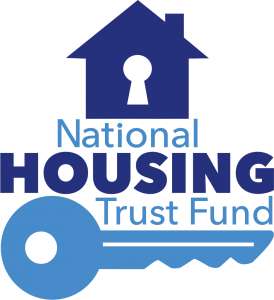 The West Virginia Housing Development Fund is responsible for the administration of the National Housing Trust Fund.  The Housing Trust Fund (HTF) program was established under section 1338 of the Federal Housing Enterprises Financial Safety and Soundness Act of 1992, as amended (12 U.S.C. 4501 et seq.) (the Act). In general, under the HTF program, HUD allocates funds by formula to eligible states to increase and preserve the supply of decent, safe, sanitary, and affordable housing, with primary attention to rental housing for extremely low-income and very low-income households, including homeless families.
Section 1337 of the Act requires a percentage of the unpaid principal balance of total new business for the Federal Home Loan Mortgage Corporation (Freddie Mac) and the Federal National Mortgage Association (Fannie Mae) (collectively, the government-sponsored enterprises or GSEs) to be setaside and allocated as a dedicated source of annual funding for the HTF, unless allocations are suspended by the Director of the Federal Housing Finance Agency, the agency that regulates the GSEs. These funds will be deposited into an HTF account established in the Treasury of the United States by the Secretary of the Treasury to carry out the HTF program. The Act also provides that the HTF may be funded with amounts appropriated, transferred, or credited to the HTF under other provisions of law.
The Public Hearings for the FY 2019 Annual Action Plan are:
Wednesday, April 10, 2019

2:30 – 4:00 p.m.

WV Housing Development Fund

First Floor Training Room

5710 MacCorkle Ave. S.E.

Charleston, WV 25304

Tuesday, April 16, 2019

4:00 – 5:30 p.m.

WVU Tech

Robert C. Byrd Learning Building

3rd Floor, Room 322

Beckley, WV 25801

Thursday, April 25, 2019

2:30 – 4:00 p.m.

Fairmont-Morgantown

Housing Authority Main Office

103 12th Street, Multi-Purpose Room

Fairmont, WV 26554
2019 West Virginia Annual Action Plan Draft
If you're unable to attend a Public Hearing and desire to submit a written comment, please email written comments concerning HOME and HTF to Cathy Colby
Additional Information
HOME Match Information from 24 CFR 92
Underwriting and Subsidy Layering Guidelines 2018
Our guide to promoting a condition in which individuals of similar income levels in the same housing market area have available to them a like range of choices in housing regardless of race, religion, color, national origin, sex, disability or familial status.