For many people seeking respite at the height of the COVID-19 pandemic, the mountains of Davis, West Virginia, seemed like the perfect place.
Surrounded by the lush Monongahela National Forest, the small town attracted visitors from nearby Baltimore and Washington, D.C., as well as other urban areas up and down the eastern seaboard. To provide lodging, many homeowners in and around Davis began converting their spaces into Airbnb rentals. Those who could even bought second homes so they could rent to tourists and pad their income.
While this was great for the tourism industry and local economy, it highlighted a problem Tucker County has faced for years: a lack of suitable and affordable housing for the people who live and work in the area.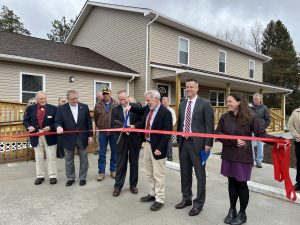 "There was already a trend in place and COVID exacerbated that. There's nowhere to live if you work up here," said David Clark, Executive Director of Woodlands Development Group, a nonprofit community development corporation headquartered in Elkins. 
To find solutions, Woodlands and other entities, including the West Virginia Housing Development Fund, formed the Tucker County Workforce Housing Group. The coalition has identified needed projects throughout the area to provide safe, affordable housing for the people who live and work in Tucker County.
Blackwater Apartments is one such project. The eight-unit development located at 111-113 Blackwater Avenue in Davis celebrated its grand opening on April 14 and was funded in part through the HOME Program. Each unit includes Energy Star HVAC systems, appliances, and exterior doors and windows as well as other features to make the units more energy efficient.
"Each development funded through the HOME Program is encouraged to include Energy Star-rated amenities to cut down on emissions and increase energy efficiency," said Cathy Colby, Senior Manager of the HOME and Housing Trust Fund Programs for the West Virginia Housing Development Fund. "Accessibility is also important in multifamily housing. At Blackwater, one unit is constructed to be accessible for those who have physical impairments, and another unit is constructed to be accessible for tenants with sensory impairments, such as vision or hearing loss. For example, the smoke detectors are louder and there's a blinking strobe light so that someone who is hearing impaired will know that the smoke detector is going off and they need to exit the unit."
Housing, downtown revitalization, and small business and commercial finance are just a few of the ways Woodlands Development Group works to improve the community in Tucker, Barbour, and Randolph counties. Clark said projects like Blackwater Apartments not only provide housing for the residents of Davis, but also can spur economic development across the region.
"This project was really born out of huge need for workforce housing in Tucker County," he said. "We identified this pre-COVID and everybody knew about the issue anecdotally, but we worked with the County Commission and Economic Development Authority to commission a study to quantify it and put numbers on it. I think every business without fail said the lack of affordable housing for workers is the single biggest impediment to economic development in Tucker County."
COVID not only affected the number of people coming to Davis, but also the availability of labor and materials. Clark said the project had some trouble getting off the ground because of financing. But once that issue was handled, the pandemic affected the project in more ways than one.
"We saw huge cost increases in materials," he said. "It's always hard to find contractors in Tucker County, but COVID made it much more difficult because so many people were investing in their properties or converting to Airbnb rentals."
Supply chain issues were another hinderance.
"I think we had to wait about nine months for our accessible shower unit," Clark said. "That's just one example, but it's true of a lot of our materials and supplies."
Now that the project is finally complete, Blackwater Apartments will soon be full of residents enjoying the newest housing development in Tucker County.
"We've got people moving in this week," Clark said. "There's a huge demand up here so there are people chomping at the bit and ready to move in today."