New year, new house?
If buying a new home is at the top of your 2023 to-do list, the West Virginia Housing Development Fund is here to help. But what can you expect as you work through the homebuying process, especially if you're a first-time buyer? The Fund's lending experts Jon Rogers and Justin Hylbert offer their thoughts.
"Buying a home is one of the biggest decisions a person can make in their lifetime," said Rogers, the Senior Division Manager of Single-Family Lending for the West Virginia Housing Development Fund. "It is a huge financial commitment that locks buyers into monthly payments for decades. It is not a decision to be taken lightly, but the Fund is here to help buyers navigate and understand every step of the mortgage loan process."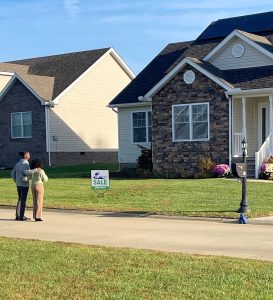 But before you take out a loan, there are a couple of important things that need to happen first.
Once you've decided to start the homebuying process, the first step before even speaking with a Realtor or attending an open house is to get preapproved. What does that mean? Preapproval allows a lender, such as the West Virginia Housing Development Fund or one of our participating lenders, to look at your income, assets, debt, and credit and tell you the maximum mortgage amount that you may qualify for. Having this information helps you further understand your budget, narrow your search, and make your offers more appealing to sellers.
Finding the right home
When you've gotten your preapproval letter and have an idea of your budget, the next step for many people is to find a licensed Realtor, preferably an agent who works in the same market where you plan to purchase. Your agent will help you find available homes within your budget, set up showings, and work with the seller's agent to make an offer. When you find your dream home and the sellers accept your offer, it is time to apply for a loan. 
While using an experienced agent is the best option for many people, others who have access to trusted advisors with knowledge of the homebuying process may be able to navigate the process without an agent. If you are unsure which option might work best for you, talk to your WVHDF lender or one of our approved lenders for advice.
The loan process
Congratulations! The sellers have accepted your offer and you and are ready to begin the loan application process. Your lender will collect a variety of information from you including tax returns, a list of all assets, information from your current and past employers, pay stubs, and more. A full list of information you may be required to submit can be found on the Fund's website.
The Fund offers two loan programs: The Homeownership Program, which is geared toward first-time home buyers, and the Movin' Up Program, which helps middle-income buyers purchase a new home. You can work directly with the Fund to secure a loan or with one of more than 60 partner lenders across the state.
"We work with banks, credit unions, financial institutions, and nonprofit housing agencies across the state to help borrowers," said Hylbert, the Fund's Business Development and Lender Support Officer. "These partners offer Fund loan products, so even if a borrower works with their local bank—and that bank is a partner—they can still take advantage of the Fund's programs."
Both the Homeownership and Movin' Up programs offer Conventional, FHA, VA, and USDA loans. The terms and conditions of those loans vary, so you should work with your lender to determine which option is best for you. The Consumer Financial Protection Bureau has more information about these different loan types and the impact they can have on your monthly mortgage payments.
After you've submitted your loan application and the initial documents, your lender will perform a detailed review of your full financial picture. The lender may ask for additional information to support the information you've submitted. At this stage, most lenders will also want to begin the process of becoming familiar with the property you are proposing to purchase. This is accomplished through an appraisal of the property by a licensed real estate appraiser which the lender will order and you will pay for.  Once the appraisal is received and the lender has reviewed all requested documents comes the decision to approve or deny the loan. If the loan is approved, you will move on to the closing stage of the process where you will receive the Closing Disclosure and other documentation detailing everything about your loan, including your monthly payment, interest rate, down payment, and closing costs.
Wait, down payment and closing costs?!
Most mortgage loans require some sort of down payment that is a fixed percentage of the purchase price of the home. The amount of down payment required for a mortgage loan can range from zero to 20 percent or more depending on many factors. Your loan officer will discuss with you how much you may be required to put down, but keep in mind that the more you can put down on your purchase, the less your monthly payments will be.
Closing costs are the fees charged by your lender and various third parties to complete the loan. You can ask the seller to pay all or part of your closing costs as part of your offer. If the seller declines to cover your closing costs, you will be responsible for paying these fees at closing.
Down payment and closing costs often present a financial barrier to borrowers, especially first-time homebuyers. That's why the West Virginia Housing Development Fund offers the Low Down Home Loan, which covers all or part of your down payment and closing costs, depending on your loan program and the purchase price of your home. The Low Down Home Loan is a 15-year, fixed-rate low-interest loan available in conjunction with your mortgage. 
"The West Virginia Housing Development Fund is all about making housing more affordable for people across the state," Hylbert said. "Our Low Down Home Loan is unique and lowers the upfront costs buyers must pay before they get the keys to their new home. With this low-interest loan, West Virginians can buy their first home sooner and without reducing the size of their nest eggs."
If you've decided 2023 is the year you will become a homeowner, contact the West Virginia Housing Development Fund at 1-800-933-8511 today to speak with a loan originator and begin the preapproval process.