Willie Lester rented a house on Charleston's West Side for 36 years. As both she and the house got older, she prayed that her next move would be to a brand-new place and come with all the bells and whistles she'd been missing.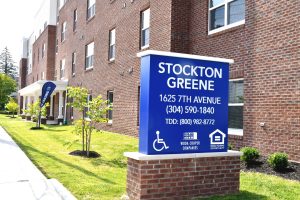 Her prayers were answered in June when she moved into her unit at Stockton Greene, a new affordable housing development just a few blocks away from her old home.  
"I love it," Lester, 77, said. "The staff here are A-plus. They're great people." 
She said the good managers and peaceful neighbors, who are all seniors over the age of 55, make living at Stockton Greene a good experience. 
"I have met quite a few of the tenants here and sometimes we go outside to the tables and talk," she said. "I like the area." 
Roger Terry, 64, likes that Stockton Greene is conveniently located on the bus line, meaning shops, health care, and other necessities are just a quick ride away.   
"I can get my little cart out and go to Dollar General or Family Dollar," he said. "There's Hills Plaza nearby. I'm 30 minutes from Kroger by bus. Everything is real convenient, real nice."
Developer Woda Cooper Companies used $4.295 million in Community Development Block Grant-Disaster Recovery (CDBG-DR) funds, a $1.1 million loan from the West Virginia Housing Development Fund's Multifamily Loan Program, and an allocation of Low-Income Housing Tax Credits from the Fund to finance the construction of Stockton Greene. The 43-unit development was completed earlier this year and leases began in May.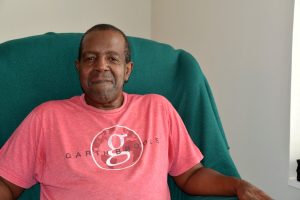 "We're pleased to partner with Woda Cooper Companies to bring Stockton Greene to market," said Erica Boggess, Executive Director of the West Virginia Housing Development Fund. "This development provides brand new yet affordable housing options for Charleston's seniors. Stockton Greene is a welcome addition to our community, and we are proud to play a role in helping West Virginia seniors have a safe, decent, affordable place to live." 
Stockton Greene's common spaces include a community room, computer lab, fitness room, and grandparent room equipped with games, books, and other things children visiting their grandparents may enjoy. Each unit is ADA-accessible and includes a refrigerator, dishwasher, electric stove, over-the-range microwave, and washer and dryer.  
Terry said that having in-unit laundry is another perk of living at Stockton Greene.
"When you have to go to the basement to do laundry, you don't know who has been in there before and what they're leaving behind," Terry said. "Now I'm the only one using my laundry and I don't have to worry about other people."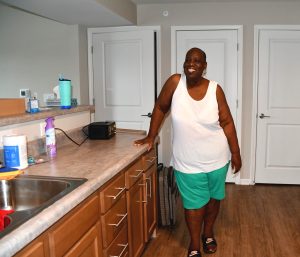 As of the end of July, roughly half of Stockton Greene's units were occupied. Belinda Norman, Regional Manager for Woda Cooper, said she and her staff are still working through applications but she anticipates the building should be at full occupancy soon.  
"Having these new apartments and nice living conditions has meant everything to the people we serve," she said. "Some of our residents have said this is the best night's sleep they've ever had. This was something that they desperately needed in this area. They can not only afford it, but it lives up to their expectations—what they would like to have for their housing." 
Especially for residents like Lester and Terry, who use one word to describe their new homes: Better. 
"I just felt like it was time for a new change and a new life," Lester said. "I'm glad that this was mentioned to me. I couldn't ask for a better place." 
"It's a blessing from the Lord to have a place like this," Terry said. "It's a better place to live than what I had before."