After a two-year hiatus, the West Virginia Housing Development Fund held a series of live lender training sessions across the state earlier this month.
Justin Hylbert, Business Development and Lender Support Officer, and Kay Bowe, Underwriting Manager, hosted sessions in Martinsburg, Bridgeport, and South Charleston to reconnect with partner lenders and to review the Fund's program guidelines and policies—especially important given recent shifts in the housing market.
"Our lending partners are a crucial part of our business because they allow us to access potential West Virginia homeowners throughout the entire state," Hylbert said. "We're thrilled to have them on board and offering our products but what happens so often is that guidelines change with the market and we have to adjust. This is a good opportunity to get out and refresh legacy lenders who need to update their knowledge based on certain policy changes, but we've also added a bunch of new lenders as well. Getting face time with those lenders and helping them feel confident in our products is helpful."
More than 150 lenders representing 19 lending institutions attended one of three training sessions. Topics covered included information about PowerLender, a new software the Fund is using to register and lock loans, as well as updates to Fund program policies.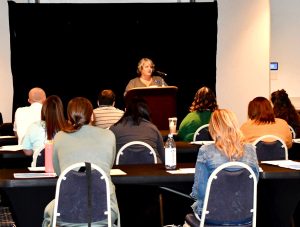 "Luckily I knew a lot of it, but it never hurts to hear it again," said Molly Savilla, a loan officer with Huntington Bank. "I think it's been a great training."
Because of the pandemic, the Fund has hosted lender trainings virtually for the past two years. Although we can meet in-person again, the virtual trainings will continue because of shifts in how and where lenders work.
"We have been doing virtual trainings as well because we do have a lot of partner lenders now who are remote," Hylbert said. "Their operation folks are scattered throughout the country so that allows them to get some training when they can't be in-person."
Be on the lookout for 2023 training session dates and locations to be announced next year.
Information for partner lenders can be found at https://www.wvhdf.com/lending-partners. To partner with the West Virginia Housing Development Fund, contact Justin Hylbert at .