Montgomery Mayor Greg Ingram admits he was skeptical of plans to bring a residential recovery house to his small town in the Upper Kanawha Valley. But as he prepared to cut the ribbon to officially open the Seed Sower Manor on May 23, Ingram was all smiles. 
"I was a naysayer," Ingram said in his remarks. "I did not believe in this. I didn't want it in my town. But there's a need here in Montgomery. There always has been—I was just blind to it. But here we are today." 
Seed Sower Manor is a 12-bed residential recovery home for pregnant women and women with small children. It is operated by Seed Sower, Inc., a state-certified residential treatment program for women in active recovery. Seed Sower began in 2020 with a 15-bed facility in Dawson and has since expanded to offer a community space in Beckley for people in recovery as well as Pregnant and Parenting Women (PPW) programming through Seed Sower Manor.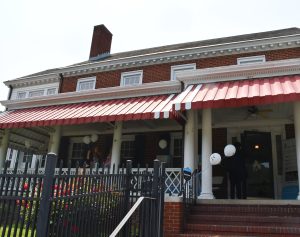 Seed Sower has received two rounds of grant funding through the West Virginia Housing Development Fund's Affordable Housing Fund Program, including more than $82,000 for Seed Sower Manor. The West Virginia Housing Development Fund has administered the Affordable Housing Fund since 2018 to provide technical and housing assistance to eligible organizations.
"Seed Sower Manor wouldn't exist without partnerships," said Lindsay Roberts, Program Director of Seed Sower Manor. "There is no way without people like the Housing Development Fund, the United Way, WorkForce West Virginia, Fruits of Labor, and Jobs of Hope that we could be successful at all because it takes those vital relationships to make it work. It's an ecosystem."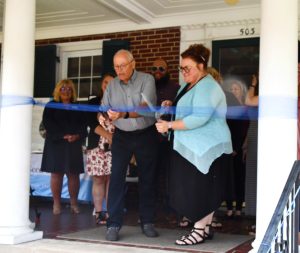 All women who participate in Seed Sower programming are guided through the 12 Step Program and have access to counselors, medical care providers, legal services, and additional programs through the Department of Health and Human Resources. Seed Sower also provides women with workforce training through Fruits of Labor, a culinary and agricultural training program based in Rainelle. 
Although pregnant women and mothers are the priority, Roberts said there are beds available for women who are not pregnant or parenting. Right now, Seed Sower Manor is home to one woman and her toddler daughter, as well as one woman who is pregnant. Roberts said the children at Seed Sower Manor will eventually be offered childcare, early literacy programs, and other resources. The home has the capacity for four to six children.
Having their children with them as mothers go through the recovery journey is a vital part of the healing process, Roberts explained. 
"It's accountability, a visual reminder," she said. "At our other home, women are separated from their children, and I see what those women go through just having to video call their children or just get to talk to them on the phone. That alone is a blessing, but having your kid here and going through the process does something for the mother. It's a motivation. My staff are also mothers, so there are additional hands here to help and guide."
Mayor Ingram said that although he didn't want Seed Sower Manor to locate in Montgomery at first, he sees the passion people like Roberts have for helping women achieve long-term recovery. 
"I'm the father of two daughters and I see the things young ladies struggle with," he said. "I'm so happy this is here, and I hope we expand and get bigger." 
Roberts said she's grateful for community investment in Seed Sower Manor and is looking forward to guiding women through the program and celebrating their achievements.  
"Recovery happens and it happens here," she said.