After Ray Moeller moved to West Virginia, he realized he couldn't leave.
"West Virginia gets in your blood," he said. 
Originally from Michigan, Moeller went through some major life changes about 13 years ago. He was let go from his job due to downsizing and was going through a divorce. After joining AmeriCorps, he was assigned to West Virginia and lived in the Summersville area for about two years.  Around the same time, he and his now-wife Connie decided to stay in West Virginia for good. A job opportunity with the Brownsville Center at West Virginia University led the Moellers to Morgantown in 2018. 
"We came up here and were renting for a bit," Moeller said. "We had no idea of the market, so we rented the upstairs of an old house in South Park for about two years. That was fine—it got us to Morgantown, but we were paying a hefty rent."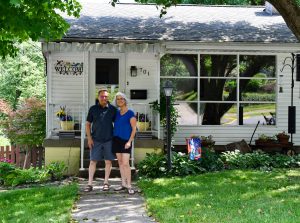 The Moellers knew they wanted to buy, but the COVID-19 pandemic caused drastic changes in the housing market. Despite putting in multiple offers on homes across Morgantown, they struggled to find a buyer willing to negotiate. That's when a friend told them about the West Virginia Housing Development Fund. 
"We looked into it, and I realized that even at my age I qualified because we had not bought a house in West Virginia," Moeller said. "We were very fortunate to find a house that had pretty extensive need for refreshing and work inside and out. It had been lived in but let go for a while. We put in a reasonable offer, and it was accepted. The Fund's Homeownership Program made it so that I didn't have to tap into my retirement fund in order to accomplish the sale. And darned if our house payment isn't $60 more than what we paid in rent." 
The Fund's Homeownership Program is designed for people like the Moellers who are buying their first home in West Virginia, or who have never purchased a home in specific counties across the state. This program generally offers our lowest interest rates, and when used in conjunction with our Low Down Home Loan, borrowers through the Homeownership Program can qualify for help with their down payment and closing costs as well.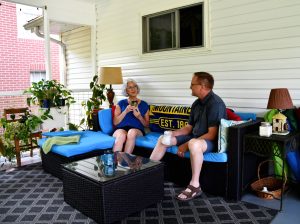 The Fund also partners with more than 60 banks, credit unions, and independent mortgage companies across the state to offer our programs. The Moellers worked with a loan officer at United Bank, who helped them throughout the process. 
"At United, everyone seemed to have a good feel for what we needed," Moeller said. "We didn't look at a standard mortgage because we knew we wouldn't want to empty our long-term savings for this purchase, so it was a perfect fit." 
The Moellers bought their home, a 1950s bungalow on a corner lot, as COVID-19 surged in August 2020. Although the pandemic presented hardships and economic uncertainty for many around the world, the housing market in West Virginia boomed.  
From April 2017 through December 2019, the Fund closed 1,137 loans with an average purchase price of $104,523. From April 2020 through December 2022, during the height of the pandemic, the Fund closed on 1,963 loans with an average purchase price of $135,424. 
"We had no idea how the pandemic would affect home buyers or the housing market as a whole," said Jon Rogers, Senior Division Manager of Single-Family Lending. "But looking at our data, we see how our competitive interest rates kept homeownership within reach for many West Virginians, even at a time of economic uncertainty. The Fund has done tremendous business over the past few years, and we show no signs of slowing down any time soon. If you're in the market to buy, give us a call to find out if you qualify for one of our programs and we can help get you into a new home." 
The Moellers have put a lot of sweat and effort into making their house a beautiful, welcoming home. Although they're enjoying Morgantown and have no concrete plans to move on anytime soon, they said they do hope the next owner enjoys the home as much as they have, especially the screened-in porch overlooking the backyard. And they encourage any perspective homeowner to consider a loan through the West Virginia Housing Development Fund. 
"Without hesitation, I would encourage anyone to explore this option and consider it as one of the alternatives to make homeownership a reality, whatever your circumstances may be," Moeller said. "This program helped us get in the position to be able to do that. I'm really glad for that."