A once-dilapidated structure on the East End of Charleston now offers a beacon of hope to women in substance abuse recovery.
Rea of Hope, a residential recovery program for women, officially opened the Ryan Brown House on June 15. The three-bedroom, two-bathroom townhouse is named in honor of a Charleston man who died of a heroin overdose in 2014. His parents, CeCe and Bobby Brown, worked with the West Virginia Legislature to establish the Ryan Brown Addiction Prevention and Recovery Fund to award grants to sober living programs. Rea of Hope received more than $276,000 through the Ryan Brown Fund to demolish the old structure and build and furnish the new townhome.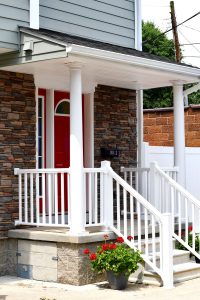 More than $71,000 from the West Virginia Housing Development Fund's Affordable Housing Fund helped complete the project. The Fund previously has helped Rea of Hope with needed renovations at their existing houses throughout the East End. In total, Rea of Hope was awarded nearly $147,000 through the Affordable Housing Fund in 2021 across all sites.
"We're a nonprofit in the business of second chances, so to have the support of wonderful organizations like the West Virginia Housing Development Fund, it just means everything," said Rea of Hope Executive Director Haley Walker.
Rea of Hope was founded in 2005 with the goal of not only helping women get sober, but to also teach them life skills that would allow them to become self-sufficient. The program is divided into two phases: Phase one is more structured and is focused on reintegrating women back into daily life. Phase two allows them to work toward bigger goals, such as reuniting with their families, paying off fines and court costs, gaining financial independence, and building their careers.
"One of our foundational values is self-sufficiency and learning to take care of yourself so that hopefully you can take care of others, including your children," Walker said. "They are required to work a full-time job and pay all program fees themselves. They get into a routine, get involved with the 12-step programs in the community, and then when they successfully complete that they can move into phase two. It's really just about the entire transition of taking someone when they come into our door with 30 days of sobriety and they're literally still having withdrawals sometimes all the way to sustained sobriety."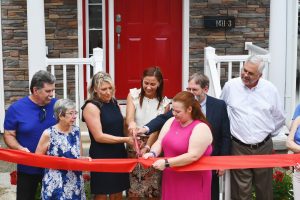 The West Virginia Legislature created the Affordable Housing Fund in 2001 to provide housing assistance funding to eligible organizations, including sober living and recovery homes, housing authorities, community development groups, and nonprofits. The West Virginia Housing Development Fund has administered the Affordable Housing Fund since 2018.
"We are pleased to partner with Rea of Hope and support their mission," said Darlene King, Multifamily Programs Administrator for the West Virginia Housing Development Fund. "We have seen over the past decade just how damaging the opioid crisis has been, and organizations like Rea of Hope offer much-needed, practical assistance to women in addiction. Not only do these women have a structured program that allows them to achieve sobriety, but the Ryan Brown House provides them a brand new, safe place to live with their children."
To date, 256 women have successfully graduated from Rea of Hope's two-phase program and more than 350 children have been reunited with their mothers.