Photos of grandchildren. Menu boards in the kitchen. A toddler's monster truck collection. 
These are just a few of the ways tenants at Glad View have made their new units feel like home.
"I just love this apartment," said Nancy Holbrook, who moved into her unit in January. "I never want to leave."
Glade View is a new affordable housing development located just outside Cowen, Webster County, and includes one-, two-, and three-bedroom units, a community room, and a playground. Each unit has spacious closets, Energy Star appliances, carpet and vinyl flooring throughout, washers and dryers, central heating and air, and plenty of natural light. All apartments are handicap accessible, with wide doors and slip-proof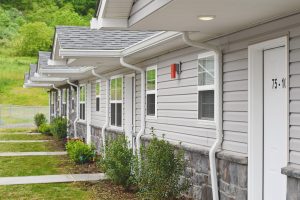 staircases. Although renters have been living in the development since January, an official ribbon cutting ceremony was held May 24.
According to the developer, the project meets a great need for housing in Webster County. All 33 units are currently occupied.
"The impetus for this project is that Webster County is historically underserve in housing," said Johan Graham, president of AU Associates. "There may not be a huge demand like there is in Charleston or Huntington, but they have been underserved percentage-wise compared to the rest of the state."
Webster County Commissioner Anna Carpenter said she was excited by the development and what it means for people in her county.
"I came around the curve and thought 'Holy Cowen,'" she said at the ribbon cutting. "This development is much needed and will provide beautiful homes for Webster County."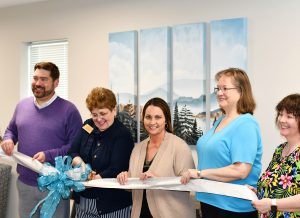 The Webster County Commission played a huge role in helping AU Associates with site selection, Graham said.
"The county basically shepherded us to this property as a potential site that had water, sewer, utilities, it was more buildable than some other sites in the county, and it's close to services," Graham said, pointing out that schools, stores, the library, and a community center are all located nearby. "If you're going to build in a rural area, you want to be as close to as many amenities as you can. This is a good spot for that, especially for families."
The project received about $7.5 million in tax credits through the West Virginia Housing Development Fund's Low-Income Housing Tax Credit Program as well as a $5 million construction loan. The credits allow the developer to minimize the amount of hard debt on the property in an effort to keep rents low, Graham explained.
Graham, whose company operates in West Virginia and Kentucky, said not only does this development provide new, beautiful homes for Webster County, but it also shows other rural developers what is possible.
"You can build successfully in rural West Virginia," Graham said. "There is a population that needs housing in rural West Virginia, whether that's single family or multi-family. It is worth making the investment."