The West Virginia Housing Development Fund is pleased to present the FY2023 Annual Report. 
This year's report looks a little different. Rather than publishing a PDF to our website, we decided to take advantage of today's technology and create a more dynamic, web-based report. The FY2023 Annual Report, located here, contains testimonials from satisfied customers, information on our single- and multifamily programs, our financial reports, and more.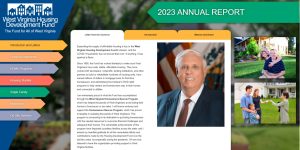 We are pleased with how this report came together and are excited to share it with you. We hope you find this new format compelling and easy to use, but above all we hope we presented a clear picture of who we are as an agency. The Fund could not accomplish its mission of providing safe, affordable housing without the hard work of our staff and support from our Board of Directors, chaired by Gov. Jim Justice. We also want to thank our network of partner developers, lending institutions, nonprofits, and others who join us in our work. Thank you for making fiscal year 2023 a successful one. 
As always, information about all of our programs, including financial activity and production, can be found throughout our website.