The West Virginia Housing Development Fund's Board of Directors has approved a loan to the Kanawha County Commission to help take down dangerous buildings.
The commission is utilizing the Fund's West Virginia Property Rescue Initiative – a program available to counties and municipalities that want to rid their communities of blighted, dangerous properties.
"We're excited to work with the commission on this important project," said Erica Boggess, the Fund's Executive Director. "The Fund is committed to helping our state reach its potential. Our organization may be best known for our homebuying programs, but we understand that empowering a community often means we need to engage stakeholders in different ways. We hope more entities like the Kanawha County Commission come forward and find a way to utilize WVPRI."
The commission was granted a $500,000 loan under the program. They will use that money and an additional $475,000 of their own funding to demolish an estimated 111 properties, according to information presented to the board.
"This is going to be the largest demolition project in the history of Kanawha County," said Commission President Kent Carper. "Commissioner (Hoppy) Shores, Commissioner (Ben) Salango and I know there are sections of this county that have to be revitalized. To do that you have to eliminate blight."
Carper said the buildings they are targeting are bringing down property values for surrounding homes, are obvious fire hazards, and in some cases, have become a haven for drug abuse and drug trafficking.
"An analysis of the county's audited financial statements illustrates a strong financial condition that is more than sufficient to repay the proposed loan," according to information presented to the board.
Nathan Testman, the Fund's Division Manager for Multi-Family and Commercial Lending, said other counties and municipalities should contact the Fund to see if they can utilize WVPRI in their communities.
"We know the problem is real and persistent," said Testman. "We want to be part of the solution."
To be eligible for WVPRI, cities and counties must have the authority to acquire and/or demolish the property and the structures to be razed must constitute a health and safety hazard. Assistance is provided in the form of a loan repayable over a maximum term of seven years.
For more information, please visit our WVPRI page on this website  or give us a call at 1-800-933-9843.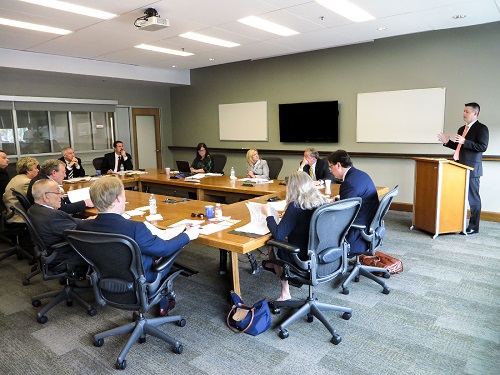 (Nathan Testman, the Fund's Division Manager for Multi-Family and Commercial Lending,
details the board on Kanawha's County's use of WVPRI.)