Executive Director hopes project will be emulated across West Virginia
ELKINS – Solar powered hot-water heaters. Locally-sourced wood products. A rain garden.
Those are just some of the features of the Porter Triplex, a LEED-for-Homes energy efficient multi-family housing unit financed through the West Virginia Housing Development Fund's HOME Program.
"The Porter Triplex is not only a wonderful project, it will be a great home to three families," said Erica Boggess, the Fund's Executive Director. "We're proud to partner with everyone who made this happen and we hope this kind of sustainable, environmentally-conscious construction will serve as a model for all of West Virginia."
Boggess, who spoke at a recent ribbon-cutting ceremony and open house for the cozy, three-unit apartment at the corner of Porter Avenue and Central Street, noted that the Fund would like to duplicate projects like the Porter Triplex throughout the State.
Each unit in the 2860-square foot building features a solar hot water heating system, Energy-Star rated appliances, interior and exterior construction products that contain little or no volatile organic compounds, locally-sourced interior wood trim, stairs and finishes, locally-sourced framing materials, high efficiency heating and cooling units, a 30-year roof and recycled drywall. The property also features a rain garden, which is a system that collects rain water and filters it before sending into the nearby Tygart River. The building also earned the LEED Homes Gold Rating, a third-party rating system issued by the U.S Green Building Council. The council promotes the design and construction of high-performance green homes and certifies their environmental standing.
The total cost of the project was $471,298. Through its HOME program, the Fund committed $399,320. Funding also came from Davis and Elkins College, The West Virginia Department of Environmental Protection, Woodlands Development Group and the Randolph County Affordable Housing and Development Group.
The project, which has been in the works since 2007, was designed and constructed by Woodlands Development and The Highland Community Builders. Project managers estimated that yearly energy savings would amount to $1,400 per unit.
A number of dignitaries spoke at the ceremony, including keynote speak Congresswoman Shelly Moore-Capito, R – W.Va.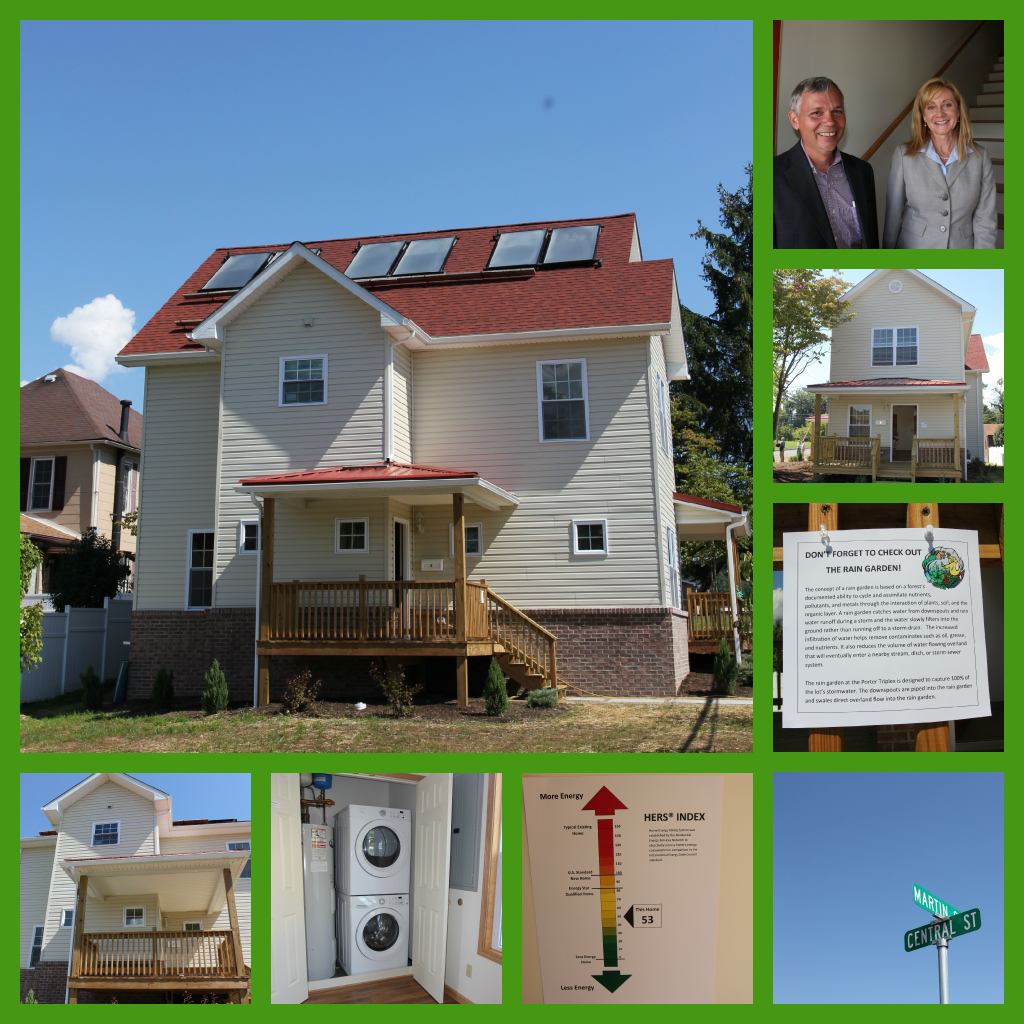 (Clockwise from the top: The Porter Triplex; Dave Clark, executive director of Woodlands Development Group and Erica Boggess, Executive Director of the WVHDF; The Porter Triplex; rain garden information; Martin Ave & Central Street; the building's HERS index; a unit's washer, dryer and solar-powered hot water tank; The Porter Triplex.)