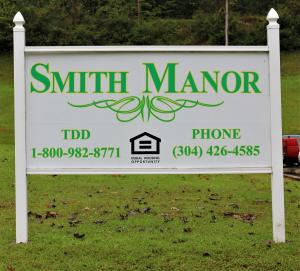 MATEWAN – Smith Manor, a nine-story, 100-apartment high rise building overlooking the Tug Fork River, is a family affair.
In a couple of different ways.
The building is owned and operated by the Smith family. Twin brothers David and Daniel Smith are following in the footsteps of their parents, the late Frank and Joann Smith, who started the partnership that is responsible for the development.
"They built this building in response to a flood that devastated the town of Matewan and the entire Tug Valley in 1977," said David Smith. The building, which was originally financed through the West Virginia Housing Development Fund, opened in February of 1982 and has been in operation ever since.
David Smith said the management team tries to extend that feeling of family to residents as well.
"Our residents know what we expect from them," he said. "We are consistent in our policies and procedures. At move-in, we inform our residents as to what we expect from them and what they can expect from us."
Smith said his team prides itself on providing safety, security, convenience and fun.
That plan seems to be working. He noted that some have lived in the building since it opened. During a recent tour of the property, he also pointed out two portraits on the wall – one his mother and the other of his father – were purchased by a group of residents as a way to memorialize the couple.
"That meant a lot," he said.
Smith said he hopes residents see the Smith Towers as more than just a place to live, but as a true community. A free van service takes residents on errands, they host wellness clinics on a regular basis and provide residents with flu shots. Smith added that they host holiday parties and dinners.
Ongoing capital improvements are a main feature of the building. A new generator was installed last year, the elevators have been updated and Smith can keep an eye on the building via a state-of-the-art security system. Recent upgrades to units include new refrigerators and flooring.
Smith noted that the building scored a 97 (out of a possible 100) when the Real Estate Assessment Center, working in conjunction with the U.S. Department of Housing and Urban Development, completed their most recent inspection.  The building scored a 99 (out of a possible 100) on the Fund's
Management Occupancy Review, which reviews management practices, compliance and adherence to policies and procedures.
"Our mission is to provide decent, safe and affordable housing to people of modest means," Smith said. "We hope that's what we're doing."