Project was partially funded through Low-Income Housing Tax Credits.
For more information contact George Gannon 304.391.8643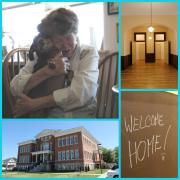 ELKINS – Claudene Cross loves her new home at 1st Ward School Apartments.
She can take her beloved dog Charlie Brown along South Davis Avenue and chat with her neighbors. If she's in the mood to hear some live music, she can make her way a few blocks north to the Randolph County Community Arts Center.
"It's nice here," said the gregarious former Radio City Music Hall Rockette. She spent three years in the dance group in the early 1950s.  A wonderful experience, Cross says, but she described the atmosphere as "more strict that a nunnery."
High kicks may no longer be an option, but that doesn't mean there's no vivaciousness left. When asked her age, Cross only replies with a quick laugh, "I'm getting closer to 80."
Living in Elkins means she can enjoy the city's cultural offerings – from The American Mountain Theater to a play or performance at Davis and Elkins College.  She also has a front row seat for one of her favorite events – the annual Mountain State Forest Festival.
She learned about 1st Ward through her daughter Alice, who lives in town.
"I took one look as this place and said 'I'll take it,'" Cross said.
The building was funded, in part, through the West Virginia Housing Development Fund's Low-Income Housing Tax Credit Program.
Erica Boggess, the Fund's Executive Director, said the school is a great way to transform a property.
"1st Ward School is an example of how the tax credit program can benefit an entire community," Boggess said. "This is a great location for residents and what the developers have done with the building is truly remarkable. We can point to 1st Ward and further prove why the tax credit program is a success."
The $3.7 million development involved the rehabilitation and adaptive reuse of a two-story building, which was constructed in 1908. 1st Ward was used for nearly 70 years as a public school before closing in 1976.
After it was closed, it was used as a storage facility. The Randolph County Board of Education transferred the vacant and deteriorated building to C-HOPE, a local civic group which obtained a grant to repair the roof and stabilize the structure.
AU Associates, Inc. renovated the building to create 16 affordable one- and two-bedroom apartments and turned the property over to Highland Community Builders of Elkins. The rental units will be managed by the Randolph County Housing Authority, while the building is owned by Highland Community Builders