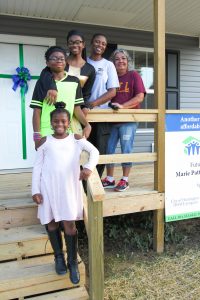 Of course she knows about the appliances, where the bedrooms are and how many bathrooms she has.
But she also knows where the studs are because she helped build the walls. She knows how the floor was laid because she helped carry in the tile. She knows the doors won't stick because she helped to hang them.
"I was here a lot when we were building it," said Patterson during a ribbon cutting at her five-bedroom, 1,440-square-foot house in the 1700 block of Monroe Avenue. "We put in a lot of sweat equity."
Patterson is no stranger to banging hammers and piles of sawdust.
Her father worked construction and, as a young girl, she would accompany him to the job site.
While she may have left that trade behind, the single mother of three is still working hard. She holds down two jobs as a medical assistant. An active career like that almost demands she has a safe place for her and her family.
"This is just a wonderful blessing for me and my children," Patterson said. "It really is a dream come true."
Patterson's home came via the Huntington Area Habitat for Humanity. The house was funded, in part, through the Affordable Housing Fund, which is administered through the West Virginia Housing Development Fund. The Affordable Housing Fund provides funding for both technical and housing assistance to non-profits and government entities and to encourage stronger partnerships, collaboration and greater involvement of local communities in meeting housing needs in the state.
"We're so happy for Marie and her family," said Erica Boggess, the Fund's Executive Director. "The city of Huntington is making a strong comeback and we're excited to play a role in its resurgence. We know that to make that happen, hard-working families need a place to call home. We're excited to see what the future brings."
Marie will share her home with 17-year-old Walajia, 13-year-old Walter and 7-year-old Azaria.
During the ribbon cutting, which was attended by Patterson's friends and neighbors and a number of local dignitaries, Walajia performed a stunning interpretive dance and Marie's mother offered a blessing.