The West Virginia Housing Development Fund is excited to welcome Governor Jim Justice and Agriculture Commissioner Kent Leonhardt to our board of directors. The Fund is governed by an 11-member Board of Directors consisting of four ex-officio members – the Governor, State Treasure, Attorney General and Commission of Agriculture – and seven members appointed from the private sector by the Governor.
Justice, who was inaugurated on Monday, is one of the state's most respected business leaders. After earning his undergraduate degree and a Masters in Business Administration, the Governor-elect joined his family's business in 1976. He started Justice Family Farms in 1977 in beautiful Monroe County. Under his direction, Justice Farming Operations has grown to be a major agricultural enterprise. His companies farm more than 50,000 acres of corn, wheat and soybeans in West Virginia, Virginia, North Carolina and South Carolina. He purchased the Greenbrier Resort in 2009. He also serves as head basketball coach for both the boys and girls teams at Greenbrier East High School.
"The West Virginia Housing Development Fund has been doing great work since their inception in 1969. So many of our citizens have turned the dream of home ownership into a reality using one of their programs," Justice said. "If we want to attract and retain investment and create new jobs, housing is going to be critical. I look forward to working with this organization as we focus on making West Virginia better."
Leonhardt, who also took the oath of office on Monday, noted that housing is a vital part of the state's economic dynamic.
"I'm looking forward to working with the Fund as we work to grow agriculture in the state," he said. "Housing is a vital part of how we move our state in a new direction."
Leonhardt is a longtime farmer who began his passion for the industry by reviving a farm that had sat abandoned for over 40 years in the western end of Monongalia County. The farm, that he still lives on today, was purchased in 1982 and started cultivating crops and raising livestock in 1997. He recently served as State Senator from the 2nd District.
Erica Boggess, the Fund's Acting Executive Director, said she was looking forward to working with both men.
"I am positive that Governor Justice and Commissioner Leonhardt will bring great ideas and work well with our other outstanding board members," said Boggess. "Our board is engaged and accountable and our members' input and guidance over the years has been a large part of our ability to help our state's residents find safe, affordable housing."
Boggess added that The Fund maintains a "AAA" general obligation debt rating, the only state housing agency in the nation to achieve this rating. This distinction is a direct result of a devotion to making quality mortgage loans and customers' commitment to what is often their biggest investment. Standard & Poor's, one of the country's most respected rating services, noted the extremely high credit quality of the Fund's asset base, its ability to meet its legislative mandate, the dedication of the talented management team and a smart investment philosophy. When The Huffington Post recognized West Virginia as the country's top state for first-time homebuyers, they specifically cited the Fund's mortgage program.
Boggess thanked Former Governor Earl Ray Tomblin and Secretary of Revenue Bob Kiss, who served as Tomblin's designee on the board, for their years of service.
"Secretary Kiss and Governor Tomblin were great to work with. They were informed, responsive and easily embraced our mission to make certain that West Virginians have access to safe, affordable housing," she said.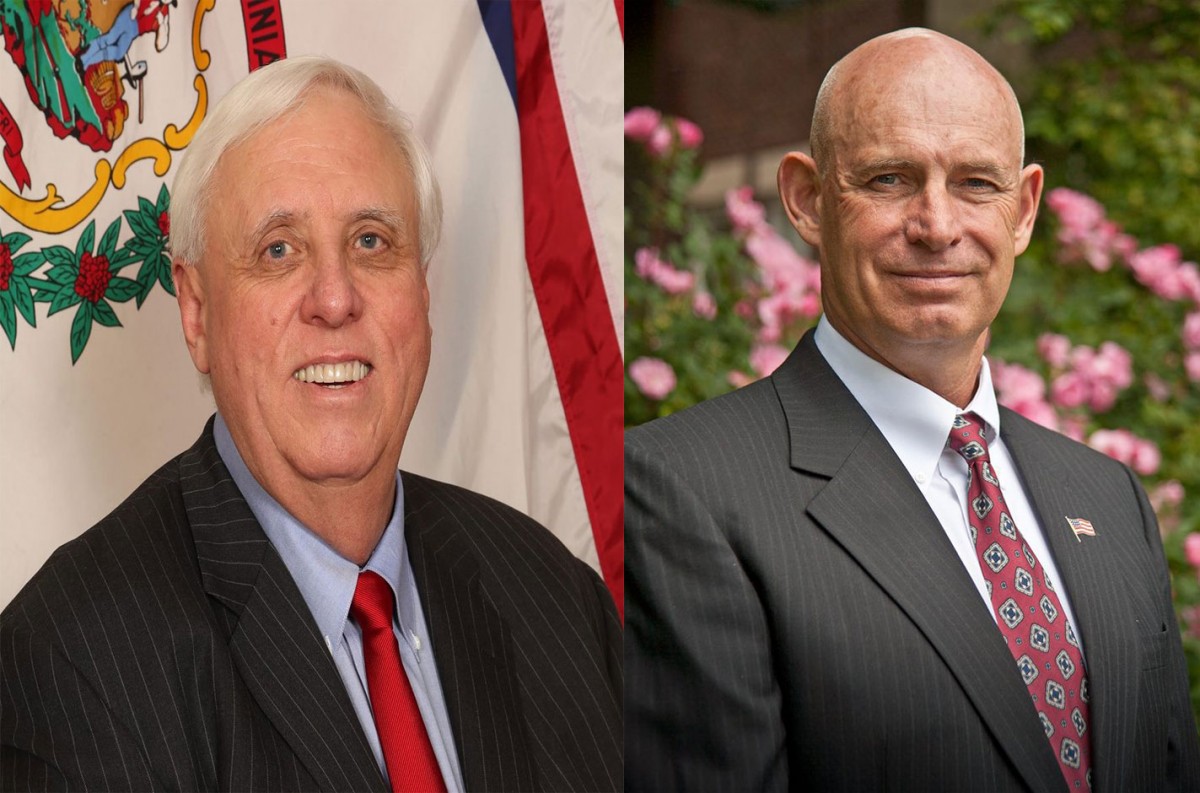 Gov. Jim Justice, left, and Agriculture Commissioner Kent Leonhardt