Grants awarded to affordable housing programs
For More Information, Contact Joe Hatfield 304.340.9998
CHARLESTON – Earlier this week, several West Virginia Housing Development Fund employees attended a public policy briefing and grant presentation  sponsored by the Federal Home Loan Bank (FHLB). The event focused on how the ongoing public policy debate in Washington could affect lending institutions and the housing industry.
The Federal Home Loan Banks are regional cooperatives owned by nearly 8,000 members, including community banks, credit unions, community development financial institutions and insurance companies. Wednesday's forum was sponsored by the FHL Bank Pittsburgh.
"Staying current on public policy and legislative issues that affect the housing industry is vital for us to continue to help West Virginia families find safe, affordable homes," stated Joe Hatfield, the Fund's Executive Director. "The FHL does a great service by sponsoring forums like this.  By educating our employees about what's happening in Washington, D.C., we can better serve not only those looking for homes, but all of our lending partners."
Congresswoman Shelley Moore Capito, R – W.Va., delivered the keynote speech.  The veteran lawmaker and member of the House Financial Service Committee, which has jurisdiction over the nation's housing and financial service sectors, discussed a number of issues. She touched on financial reform, government spending and how policy decisions in Washington affect citizens and families in the Mountain State.
Patti Shamblin, Loan Originations Manager for the Fund, said each speaker offered an interesting perspective on the issues and she can now use that information to better serve the Fund's many partners.
"If we have a firm grasp on policy and regulatory issues, we are better prepared to help our lending partners, homebuyers and all the companies and organizations we work with," Ms. Shamblin said. "When we field questions, we need to have answers and events like this are an important part of the process."
Others speakers included Winthrop Watson, President and CEO of FHL Bank Pittsburgh; Peter Knight, Director of Government Relations for FHL Bank Pittsburgh; Lora Pierce, Executive Director of Habitat  for Humanity of West Virginia and Dr. George Hammond, the Associate Director for the Bureau of Business and Economic Research at West Virginia University.
In addition to briefings, the FHL Bank made grant presentations to affording housing programs from across the state, including Algoma Apartments in Northfork, The Flats in Wheeling, The Healing Place of Huntington and other housing rehabilitations projects in Fayette, Greenbrier and Marion counties.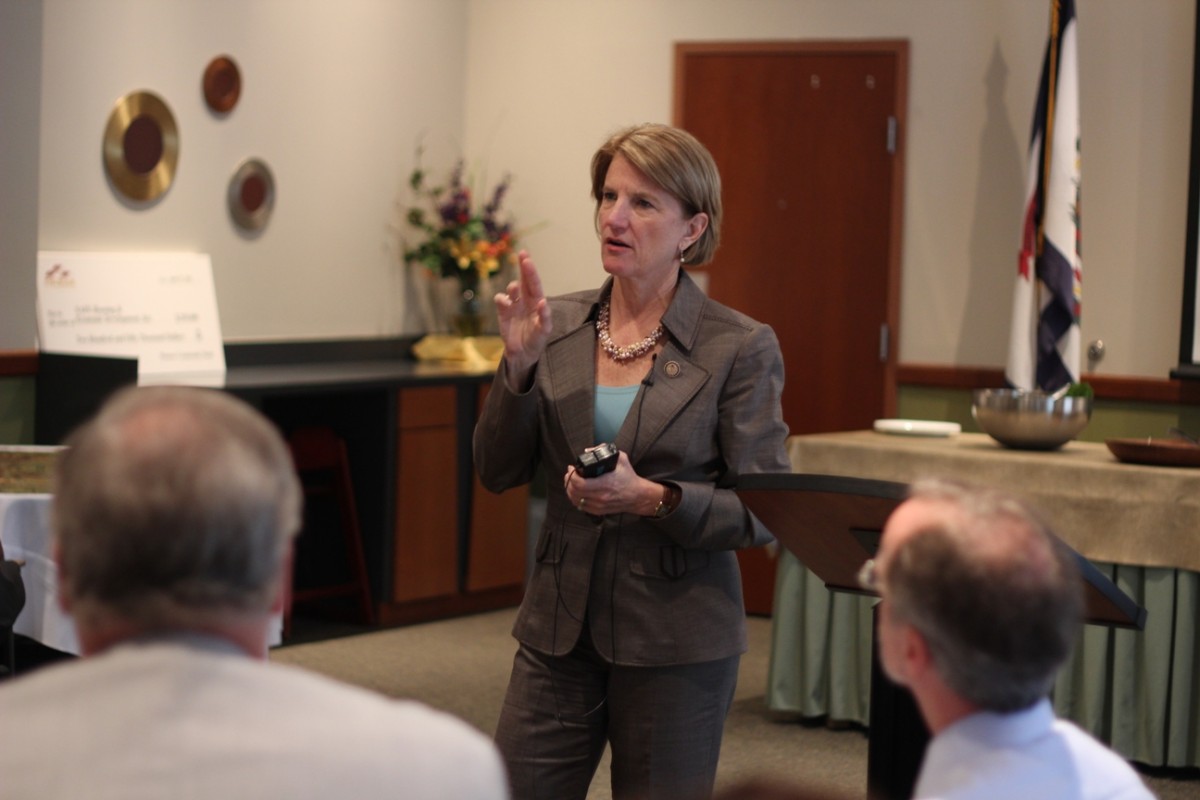 Congresswoman Shelley Moore Capito, R-W.Va., addresses the crowd at the FHL Bank Pittsburgh's policy forum.