Fund's new home selected among numerous sites in West Virginia
The West Virginia Housing Development Fund's new office in Charleston has been recognized by the West Virginia Chapter of the American Institute of Architects with the 2012 Honor Award for Excellence in Architecture.
The building, which was designed by ZMM Architects and Engineers of Charleston, is located in the Kanawha City neighborhood on a former Brownfield site. Home to 100 employees, the building features a state-of-the-art board room and training room, fitness center and a number of meeting and private consultation rooms.
"We're truly honored by this designation and we're proud to partner with ZMM on such an exciting and dynamic project," said Erica Boggess, the Fund's Acting Executive Director. "This is our forever home, but more than that, it's a tribute to our customers. The West Virginia citizens and families who have entrusted us with financing their most valuable investment is a tremendous responsibility. This building will help us better serve them and future homeowners."
A formal awards ceremony was held Saturday, April 14 at the Embassy Suites in Charleston. During the presentation, Trula Remson, AIA, the principal architect with Remson, Haley, Herpin Architects in Baton Rouge, La., and a judge for this year's competition, described why the panel selected the Fund's building.
"We saw this is a legible, readable, direct plan," she said. "There is a fearless use of color and natural light just floods the interior," she said. "You can tell this is not just another office building."
Other honorees included the Princeton Public Library in Princeton, Mon Power Regional Headquarters in Fairmont, the Capital Centre in Huntington and the Spring Mills Primary School in Martinsburg.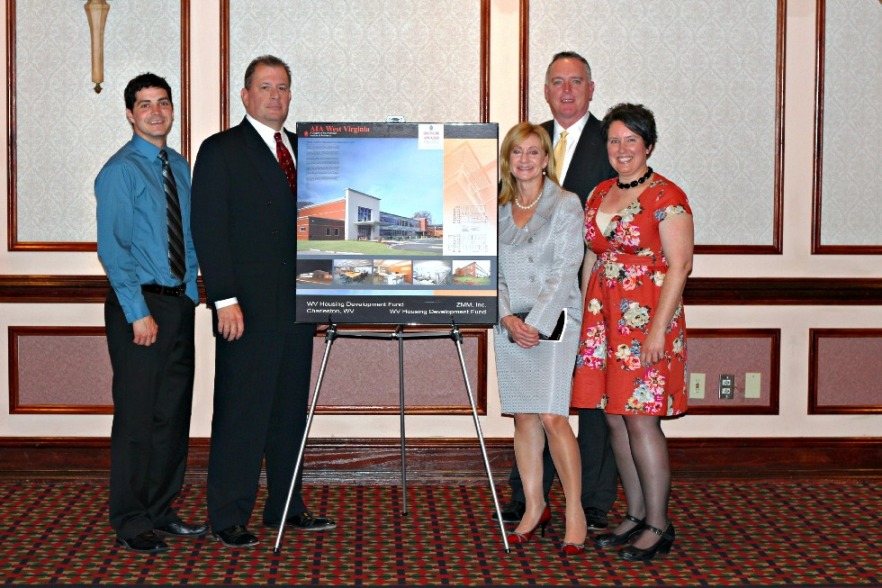 (From left to right: Chad Raines and David Unrue of ZMM; Erica Boggess, Acting Executive Director for the Fund, Mike Davis of G&G Builders and Jill Watkins of ZMM)